Megan Hurwitt
Edit
Megan Hurwitt furthers her skills with a firearm, as defense is a serious concern with most preppers. Here she practices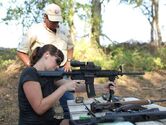 with an AR-15.
Lisa Bedford's Family
Edit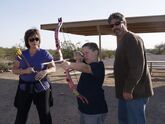 Lisa Bedford and her husband train with their son in the skill of archery, in case they need to hunt or protect themselves in the eventuality of a doomsday catastrophe.
Ad blocker interference detected!
Wikia is a free-to-use site that makes money from advertising. We have a modified experience for viewers using ad blockers

Wikia is not accessible if you've made further modifications. Remove the custom ad blocker rule(s) and the page will load as expected.