Kellene Bishop
, a self-described foodie, amazes her friends by whipping up a dinner party entirely from shelf-stable foods,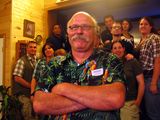 proving she won't sacrifice the finer things in a financial disaster.
David Sarti- Prepping for an EMP that will take out the US transportion and power grids.
Kellene Bishop-Prepping for the Total Collapse of the Financial System
Dennis Evers-Prepping for Global chaos caused by Hyperinflation.
Expert Rating

Edit
Ad blocker interference detected!
Wikia is a free-to-use site that makes money from advertising. We have a modified experience for viewers using ad blockers

Wikia is not accessible if you've made further modifications. Remove the custom ad blocker rule(s) and the page will load as expected.